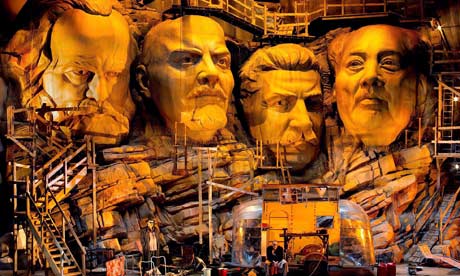 Castorf Ring
Soprano Jennifer Wilson is stepping aside from the role of Sieglinde in the upcoming Bayreuth
Ring.
Heidi Melton will be taking the role instead.
Slipped Disc has published a gracious statement from Wilson
, and it sounds as though she lost the role through no fault of her own - a significant disappointment, I'm sure.
Marek Janowski had expressed concerns that her timbre was too much like that of Catherine Foster, Bayreuth's Brünnhilde, and decided during the rehearsal period that it would be best to buy out her contract. He would be fine with having her as Brünnhilde in a concert performance.
Then Wilson quotes him as follows:
He told me that he no longer conducts staged opera because he hates the productions, but that if a concert of Walkuere came up he would be happy to have me as his Brunnhilde.
That's mighty puzzling. I mean, Janowski has said this before, and he has recorded a Wagner opera set in concert over the last decade. But the last I looked, Bayreuth is staging Frank Castorf's
Ring
again this summer, and Janowski is conducting it. I'm very curious why he seems to have made this one-time exception,
especially
with a production that has gotten more a few epithets thrown at it since 2013.